Hello, hello! Welcome to my shiny new blog. (Well, it's still a bit under construction, so pardon my dust if there is any.) My name is Bianca. I'm a 20-year-old who looks 16, a college student, a sort-of writer/actress/singer, and... yeah, I'm still trying to figure all that out. Care to come along for the journey?
I'm starting this blog as a way to keep a record of the little and big things in my life. I love to write, and as long as I have something to write about, I'll always keep doing it. One way to keep things interesting, as I've seen in other blogs, is having consistent topics to talk about on certain days. Today is Friday. So perhaps it's time for my first "Friday Favorites" post?
Living in The Golden State usually means a slower transition from one season to the next. Summer is technically over, but our atmosphere disagrees. While that does make me a little impatient for sweater season, I'm not any less excited about what's to come this autumn. But while I'm waiting around for things to cool down, I'd like to share my Summer of 2012 Favorites.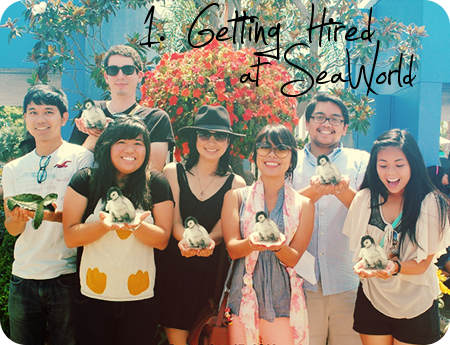 Growing up in good old San Diego for most of my life means being no stranger to Shamu's domain. As a kid, SeaWorld was gigantic to me, and it seemed nearly as vast as the ocean itself. It wasn't until they hired me as a photographer that I realized how small of a theme park it really is... and that there isn't actually a whale named Shamu.
Besides the whole getting disenchanted part, working at SeaWorld has been an incredible adventure. My co-workers are an array of colorful personalities that I likely wouldn't have met if I didn't apply for the job on a whim, and I'm glad to call them my friends. I truly learned a lot through this job - not only about being a better photographer, but also about how to deal with people and becoming more outspoken, as I can be a bit of a quiet mouse at times.
There are a lot of perks about being an employee at SeaWorld, and I'm not talking about the discounts, free entry, and the pretty decent pay. I've had the opportunity to make a lot of special memories that I'll carry for the rest of my life. One amazing memory involved getting picked to stand in an empty Shamu Stadium to snap a private photo of all the killer whales doing a "slide-out" (when they slide out of the water and onto a surface, where they usually pose for a few seconds).
The best part of it all? It's not exactly a "summer job" anymore. They extended my seasonal employment until the end of the year, so I get to stick around for both their Halloween Spooktacular and Christmas Celebration. It's going to be a fun rest of the year at work.
Questionably reliable rides, rigged games, artery-clogging deep fried food, suffocating concerts, informercials in real life... what's there not to love about fairs? Held at the Del Mar Fairgrounds, the San Diego County Fair takes on a different theme every year. This year, they decided to go with "Out Of This World," which meant everything outer space. Which
really
meant flaunting a giant spaceship complete with blinking lights and smoke effects and fairground employees in alien suits wandering around freaking out guests...
Oh, man. It was really weird. But it was really, really fun. It's all about good company, after all (I went with my boyfriend twice and my co-workers once). I'm still apologizing to my arteries about all the amazing junk I ingested during that time.
I'm kind of a nerd. And nerds from all over the world fly over to San Diego just to attend Comic-Con International. So it would have been totally illogical for me
not
to attend the convention that was literally about half an hour away from my house. And since I was a volunteer, I didn't have to pay for admission as long as I completed my three-hour shift (which involved picking up paper... lots of paper). I didn't get to sit in for any panels, but I
did
get my hands on a bunch of free stuff and made a few meaningful purchases - the best of them all being a charming little Pikachu pin. It was unfortunate that my busy summer schedule only allowed for me to attend one day, but what a great day it was.
Maybe next year, I'll dress up.
Even though I go multiple times every year (proud Disney freak right here), the memories I made at Disneyland and California Adventure during this past summer were unique for a couple of different reasons. I went to Disneyland with my co-workers for the first time, which was a cool experience due to the fact that I usually go with my family or my close-knit group of friends. One of my co-workers
hadn't been to Disneyland before
, crazily enough, so we had a lot of fun touring him around and introducing him to the magic of the park. It was also our first time taking advantage of Disney's PhotoPass system, which was cool and handy and slightly fancier than what we do as photographers at SeaWorld.
I only need to say two words for my reasoning behind how awesome my visit to California Adventure was: Cars Land. The minute I stepped into the piece of land dedicated to Pixar's
Cars
, I swear I was standing right in the middle of the movie - as if Radiator Springs actually existed. Well, I suppose it exists now. Those Disney imagineers truly do pay attention to every tiny detail, because I'm certain that wasn't real rust on the rails of the queue or fake tires decorating the rides. (And don't get me started on how a million times cooler it gets at night when all the neon lights turn on!) It all seemed so surreal; an animated movie brought to life. I was even dubbed "Princess Diamondlane" by a cast member who liked my Minnie Mouse outfit, and he gave me a snazzy free pin. It was a fantastic time. Everyone needs to go visit Cars Land. I'm getting withdrawals just writing about it.
...And that's about it! While this past summer was a whirlwind of fun adventures and extraordinary memories, those were definitely the highlights. But I'm ready to say so long, summer. Autumn has a lot in store for me and I can't wait. Maybe I'll make a list of things I'm looking forward to in the next few months. Sounds like a solid idea.
Stay tuned and stay merry.
♡ Bianca